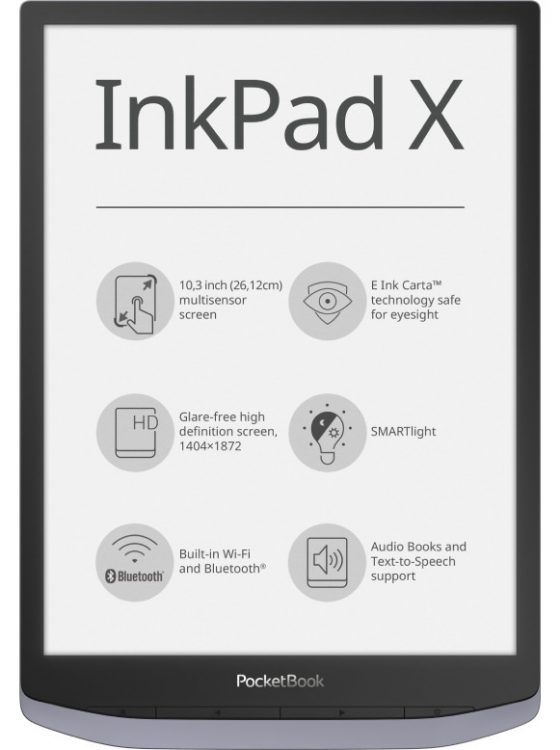 Pocketbook has announced the release of a new ereader with large 10.3-inch E Ink screen called the Pocketbook Inkpad X.
The Inkpad X is the first large-screen ebook reader that Pocketbook has released in a long time. It has a frontlight with dual color temperature, 32GB of storage space, a USB-C port, and it weighs a lightweight 300 grams.
The Inkpad X also supports audio and text-to-speech via Bluetooth and with an included 3.5mm adapter.
Other specs include a dual-core 1GHz processor with 1GB of RAM, it has a 2000 mAh battery, there's a g-sensor to rotate the screen, and Wi-Fi to download books, transfer and sync.
It supports a number of formats, including all the main ones like ePub, PDF, CBR, CBZ, MOBI, FB2, HTML, etc.
The design is similar to the 7.8-inch Pocketbook Inkpad 3, with menu, home, and page buttons located below the screen.
Unlike other 10.3-inch ereaders on the market, the Pocketbook Inkpad X does not have a Wacom touchscreen, just capacitive, so it's strictly an ereader and not a digital notepad.
Pocketbook used to sell a few different 9.7-inch ereaders a long time ago, around the same time the Kindle DX was popular, and a couple of models that were ahead of their time had Wacom touchscreens. It's a bit odd that this new Inkpad X does not but it should be great for ereading.
Pocketbook Inkpad X