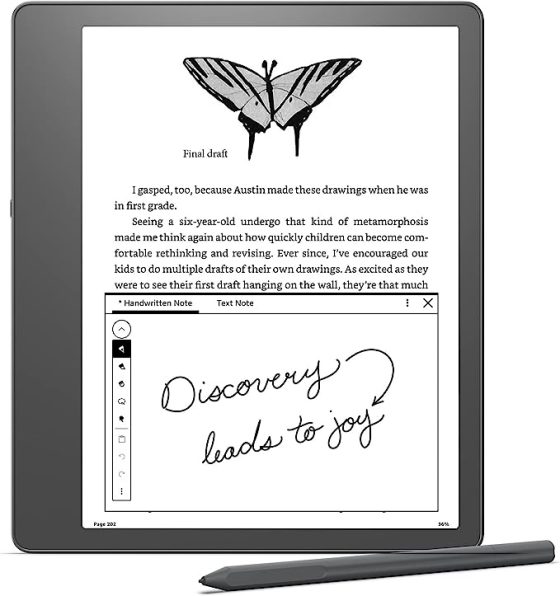 Amazon has the Kindle Scribe on sale, and both versions of the kids Kindles are on sale again too. All other Kindles are still full price so you'd be better off buying one of the kids bundles during this sale than paying full price for the same Kindles without any extras.
The Kindle Scribe can be had for as low as $279.99 for the 16GB version with the basic stylus, which is $60 off the regular price. That's a great price for the Kindle Scribe; I still don't understand how Amazon can sell it for basically the same price as the Kindle Oasis.
The 32GB Kindle Scribe is priced at $319.99 instead of the usual $389.99, and the 64GB model is marked down to $344.99 from $419.99.
You can get an additional $40 off when buying two Kindle Scribes, and you can also get an extra 20% off if you have an old Kindle to trade-in.
The kids Kindles are on sale again too for what seems like the 5th time in as many weeks (it's the back to school sales that are doing it).
The 16GB version of the Kindle Paperwhite Kids is on sale for $119.99, which if $50 off the regular price. Amazon no longer sells the 8GB version.
The entry-level Kids Kindle is marked down to $84.99 from $119.99. Both kids models are the same as regular Kindles; they just include a free cover, an upgraded 2-year warranty, and a 1-year subscription to Amazon Kids+ for access to a library of kid-friendly content.
You can get an additional $20 off when buying two kids Kindles, and they're also available with a trade-in to get an extra 20% off.
Amazon also has their Kids Fire Tablets on sale too, and some of the other Fire models as well. They have so many different versions it's hard to keep track of them these days.