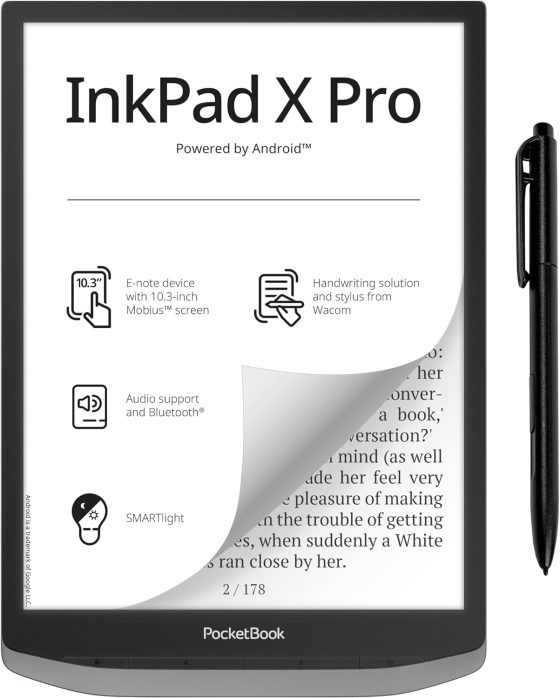 PocketBook has been releasing a bunch of new ereaders this year. They just released a couple of new 6-inch models last week, and now their latest large-screen model that was announced last month has started shipping.
The PocketBook InkPad X Pro is now available to order from PocketBook's official Amazon store. The price is listed at $420.00 with free shipping, and apparently a protective cover is included in the box. They were recently selling the original InkPad X for $449 so at least the price has gone down a little on the new model.
The InkPad X Pro looks a lot like the first gen model, but this new version supports writing with a stylus, and it also has an upgraded quad-core processor so it should be faster.
Another key change, the PocketBook InkPad X Pro runs Android instead of the custom Linux-based software that comes on other PocketBooks. But one detail they neglect to mention on the product page is the fact that it's an ancient version of Android from 2017: Android 8.1.
Most Android-powered eNotes and ereaders are running Android 11 these days, but for some reason PocketBook is opting to use a much older version. They claim the device supports installing 3rd-party apps, and they're even showing icons for the Kindle app and Google Play Books app on one of the pictures.
I'm not sure why PocketBook is going the Android route when companies like Onyx offer Android-powered eNotes with much better specs, and something like the Note Air2 Plus is only $30 more than the PocketBook InkPad X Pro.
However, the InkPad X Pro has some good things going for it. One of the main things that separates it from similar 10-inch eNotes is the fact that it uses an E Ink Mobius screen, which has a flexible plastic backplane instead of glass like standard E Ink screens. This makes Mobius screens lighter and more durable than regular E Ink screens. Pretty much all other eNotes use glass-backed screens that are prone to cracking, and once a screen cracks it will no longer work.
The Mobius screen also helps make the device lighter than other 10-inch eNotes. According to the listing page, the InkPad X Pro only weighs 350 grams. Compare that to 433 grams for the Kindle Scribe and 445 grams for the Onyx Note Air2.
The device has 32GB of built-in storage space, with 2GB of RAM, and it has WiFi and Bluetooth, and a USB-C port. It also has a frontlight with adjustable color temperature. It has 227 ppi like most 10-inch eNotes, with a resolution of 1404 x 1872.