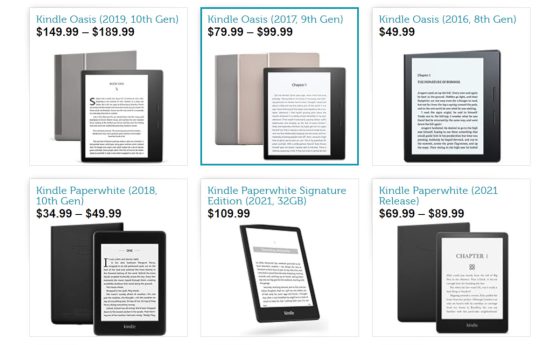 If you're looking to get a Kindle ereader for cheap, Woot has some really good deals on refurbished Kindles and Fire Tablets right now as their main Deal of the Day.
The sale ends on September 19th but the best deals will probably sell out before then, especially since the purchase limit is set at 10 each for the Kindle Paperwhite 5, and they've already sold all the 8GB models.
But you can still get a 16GB Kindle Paperwhite 5 for $89.99, and they have the upgraded Signature Edition available for only $109.99. That's $80 off the price of a new Signature Edition (also disregard Woot saying it has lockscreen ads because the SE version has never had lockscreen ads—Woot just adds that to every Kindle listing regardless).
That's a really good price on the Signature Edition, but if you want to spend even less, they have the previous generation 6-inch Kindle Paperwhite 4 available for $49.99 with 32GB of storage space (the 8GB model was only $34.99 but it didn't last long).
The first generation Kindle Oasis is also available for $49.99. That seems like a good price and is probably the lowest it has sold for on Woot, but it doesn't come with a charging cover so battery life is only going to be a few hours without it, and they're impossible to buy now.
The Kindle Oasis 2 is also available at a really low price. The 8GB model is $79.99 and the 32GB version is $99.99. It's pretty much exactly the same as the newer version that Amazon is still selling for $249.99 new, but it just lacks the warm frontlight.
If you do want an Oasis with a warm frontlight, Woot has the 8GB Kindle Oasis 3 available for $149.99 and the 32GB version for $189.99.
These refurbished Kindle deals turn up on Woot fairly often since Amazon owns Woot. It's a good way to get a Kindle at a discount. Most are probably customer returns.