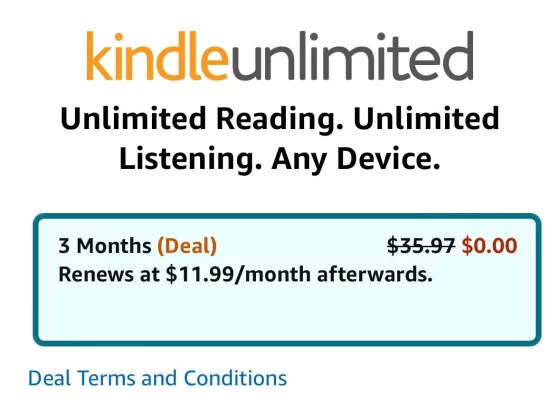 I saw a post over on reddit where some folks are getting 3 months of Kindle Unlimited for free.
I think a Prime membership is required for the deal because I'm not seeing the offer without Prime (it shows up as 2 months for $4.99 for me). Other people are getting the 3-months for free offer so it's one of those things that seems to vary by account.
If you're not getting the 3 months for free deal, this 2 months free link still works, and it does not require having a Prime membership.
Keep in mind these types of promotions only work if you don't currently have an active Kindle Unlimited subscription, and the deal is restricted to certain regions and accounts.
The only way to add free months to an active membership is to a buy a new Kindle that comes with 3-months of Kindle Unlimited.
Amazon used to run these types of deals all the time, where you could sign up to get 2-3 months for free, or for maybe $0.99, and you could go from one offer to the next with minimal downtime, but they're doing these deals a lot less frequently than they used to, and it seems a Prime membership is often required to get them nowadays.
With these extended free trials, Amazon will automatically start charging the standard fee of $11.99 per month after the offer ends, so make sure you remember to cancel before then if you don't want to get charged. In fact, you can cancel right after accepting the free offer and it will still remain active for the duration of the deal.
Here's an article that explains how to cancel a Kindle Unlimited subscription. It just takes a few clicks; you don't even have to contact customer support, so it makes it easy to use these extended free trial deals.