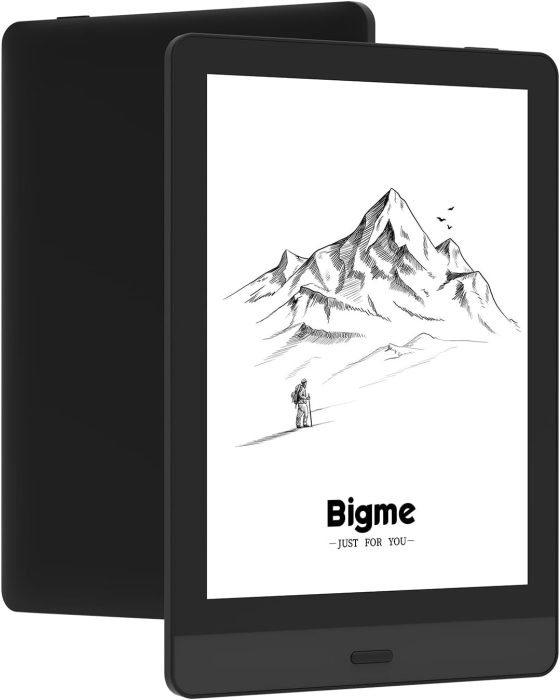 Bigme recently added an affordable 6-inch ebook reader to their lineup called the Bigme Read, and it's now available from their Amazon store for $119 with free shipping.
The Bigme Read runs Android 11 and has Google Play onboard to install apps. It's one of the cheapest Android ereaders available—it costs $50 less than Onyx's 6-inch Poke5, but the lower price point comes with some drawbacks.
First off, the Bigme Read has a 6-inch E Ink Carta screen, but with lower resolution (212 ppi) than most modern 6-inch ereaders that have 300 ppi screens. Secondly, it only has 1GB of RAM, which is really low for an Android device—it's going to require a lot of patience to run Android apps.
Aside from that, it has some good things going for it. There's a 1.8GHz quad-core processor under the hood, and it has a memory card slot and supports cards up to 1TB, with 32GB of built-in space. It also has a frontlight with adjustable color temperature, which is something you don't usually see on budget ereaders (most just have a regular frontlight without temperature control like the entry-level Kindle).
The Bigme Read also has WiFi and Bluetooth 5.0, along with a USB-C port, and the device only weighs about 170 grams, according to the listing.
They say it supports installing third-party apps and they specifically say the Kindle app is supported. Other supported ebook formats include TXT, EPUB, PDF, FB2, ZIP, PRC, MOBI, DOC, DOCX, AZW, AZW3, RTF, OEB, and EPUB3.
One interesting detail, it doesn't have page buttons but it does have a physical home button below the screen. It would be cool if they allowed you to program it to page forward with ebook apps (and make it so a long press takes you home). In fact I wouldn't mind giving up page back buttons entirely; just a single button to advance pages would be great.