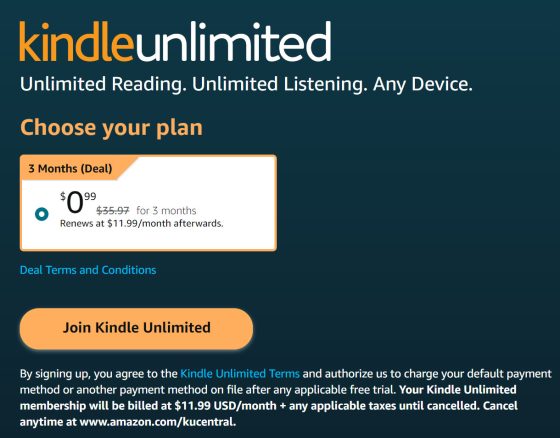 If you're looking for a deal on Kindle Unlimited, Amazon currently has an offer up where you can get 3 months for $0.99 as part of their Early Black Friday Deals.
Like usual, these types of offers are for new or returning customers, but there's also Amazon's Kindle Unlimited gift deals as well, and the older 2 months for free offer is still working too.
You can also get 3 months free when purchasing a new Kindle from Amazon, and that will get tacked on to an existing membership.
These Kindle Unlimited deals are usually restricted to certain regions and accounts so you might not see the same offers.
Kindle Unlimited Deals
3 Months of Kindle Unlimited for $0.99 – This just showed up as part of Amazon's Early Black Friday Deals. It's hard to say how long it will be available but Amazon usually extends their Black Friday Deals on Kindle stuff through Cyber Monday.
Kindle Unlimited Gift Subscriptions for 17-40% off – This is an ongoing deal that is always up but the page is hard to find. You can buy gift subscriptions for Kindle Unlimited in 6, 12, or 24-month terms. If you buy 6 months or 12 months the price is $9.99 per month instead of the usual $11.99. If you buy 24 months you can get it for $7.20 per month.
2 Months of Kindle Unlimited for Free – This deal has been up for a while now but it's still working. It won't work in conjunction with the 3 months for $1 deal above but it's still an option if you want an extended trial.
–
Keep in mind, Amazon will automatically start charging your account the standard fee of $11.99 per month for a Kindle Unlimited membership after the offer ends, so make sure to cancel before then if you don't want to get charged. Here's an article that explains how to cancel a Kindle Unlimited subscription. It's easy to do and only takes a few clicks.