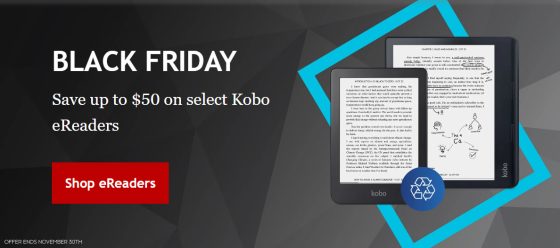 Kobo has started their Black Friday sales. You can get up to $50 off on Kobo ereaders, and they also have a gift card deal where you can get an extra $10 back when buying a $50 Kobo eGift card.
The sale on Kobo ereaders runs through the end of the month, and the gift card bonus deal ends on Cyber Monday (November 27th).
Kobo's Black Friday sale is taking place on their website and from their official retail partners, which includes Walmart and Amazon (sold by BlueProton) in the US.
The best deal is the Kobo Elipsa 2E for $349. That's $50 off the regular price, and this is the first time it's been on sale since it was released in April. It's Kobo's 10.3-inch model that doubles as an ereader and an electronic notebook. See my Kobo Elipsa 2E review for more details about the device.
It's worth noting, the "Kobo Elipsa Pack" that Kobo is also selling for $349 is not the current model and it's not really on sale, despite what Kobo's website shows, because it's been at that price since they released the newer 2E model, and it makes zero sense to buy it instead of the 2E.
Kobo also has the Kobo Sage on sale for $239. That's $30 off the regular price. The Sage is Kobo's premium model and it has an 8-inch E Ink screen. It can be used as an eNote as well but you have to purchase a Kobo stylus separately.
The 6-inch Kobo Clara 2E is on sale for $119. That's $20 off the list price and is what it usually sells for when there's a sale. If you want a 6-inch Kobo this is the model to get. It has all the main features you'd expect in an ereader, and it has a better screen and frontlight than the outdated entry-level model.
Kobo's lowest-end model, the Kobo Nia, is also $20 off at $89. Frankly, this model is so old and outdated they should be selling it for $59. It can still get the job done but I wouldn't recommend it considering you can get something better for the price.
Oddly enough, my favorite Kobo model, the Kobo Libra 2, is the only one that isn't on sale at all this Black Friday. Maybe Kobo is saving a deal for Cyber Monday, but they've never done that before. Why wouldn't it be on sale too?