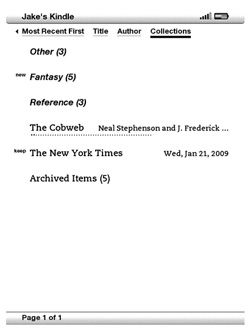 Better late than never, Amazon has officially released an updated version of firmware for the Kindle 2 and Kindle DX. The update downloads automatically to the device if you own one, or you can visit Amazon's Kindle software page for instructions on how to manually update.
The most anticipated new feature is folders, or "collections" as Amazon calls them. With collections you can organize your ebooks, PDFs, audiobooks, and other media from the Home screen to any collection you create, and you can even have the same files in different collections. For sorting within a collection the options are Most Recent, Title, and Author. And deleting ebooks from a selection does not delete it from the device.
Additionally, collections are stored in Amazon's cloud so that whenever you create a new collection on a device, it appears in "Archived Items" on other devices registered to same account—then the files can be transferred from there.
Amazon's description of the new features included in the 2.5 firmware update:
Collections: Organize your books and documents into one or more collections.
PDF Pan and Zoom: Zoom into PDFs and pan around to easily view small print and detailed tables or graphics.
Password Protection: Password protect your Kindle when you're not using it.
More Font Sizes & Improved Clarity: Enjoy two new larger font sizes and sharper fonts for an even more comfortable reading experience.
Facebook & Twitter Posts: Share meaningful book passages with friends on Facebook and Twitter directly from your Kindle.
Popular Highlights: See what the Kindle community thinks are the most interesting passages in the books you're reading.
Visit our Kindle Review page for more information on the Kindle 2 and Kindle DX.