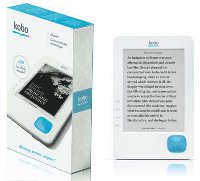 Not to be left out of the price-cutting ebook reader hype and media frenzy, Borders issued a press release today announcing that they will be bundling the new Kobo eReader with a $20 Borders gift card and double Borders Bucks.
The Kobo eReader sells exclusively from Borders.com in the United States for $149. It is currently up for pre-order for a July 2nd shipment, as the initial orders for the June 17th release have sold out.
This coincides with yesterday's release of the new Borders iPad and iPhone apps, as well the PC and Mac apps, of which they (and everyone else) aren't publicizing for some reason.
In addition to the Kobo device, Borders already sells the Sony Pocket and Sony Touch. It'll be interesting to see how Borders will work that out since their new software and ebook store is powered by Kobo's software, which isn't directly compatible with Sony Readers, although the books are.
Borders will also start carrying the Aluratek Libre on July 20th, 2010. They currently have it up for pre-order for $119. This is totally weird because the Libre is in stock and selling from a number of online retailers and has been for several months.