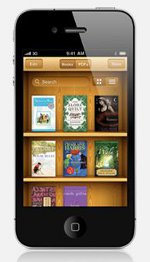 Version 1.1 of iBooks is now available for download from the iTunes store, and now works for any iPhone or iPod running the new iOS 4.
The iBooks app has been out since April when the iPad first launched. And until now it was exclusive to the Apple iPad; you couldn't even see what ebooks they had to offer using a web browser, you had to use an iPad to access the iBookstore.
The 1.1 update also adds some new features to the iBooks application, giving it the ability to open and read PDF files, and add them to the virtual bookshelf.
Apple also took a lot of the good features from the other ebook reading apps and included them in the update, such as adding notes, bookmarking multiple pages, highlighting selected passages, and changing the background color. And now that iPhones and iPods are supproted by iBooks, the app will automatically synchronize your ebook library across those devices.
Here's the complete list of feature improvements for the new version of iBooks from the iTunes' description:
In addition to iPad, iBooks is now available on any iPhone or iPod with iOS 4.
Open and read PDF documents from Mail. PDF documents will be added to your library and appear on the PDF bookshelf. You can even search PDFs for words or phrases and bookmark your favorite pages.
Take advantage of new ways to bookmark. In addition to highlighting a word or a passage, you can now also add notes or bookmark an entire page with the new page ribbon.
Keep your bookmarks, notes, and your current page wirelessly in sync between iPhone, iPad, and iPod touch with the new automatic bookmark syncing feature.
See your book pages in a new font, called Georgia.
Read your books on white or sepia colored pages.
Choose left or fully justified text layout from Settings.
Read pages with greater ease by increasing to even larger font sizes.
Enjoy greater stability and better performance.
Click here to check out our hands-on iBooks App Review for the Apple iPad.