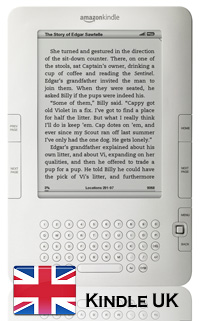 With all the recent ebook reader price-cuts in the United States and Canada, people in the UK are feeling a little left out, especially considering the constant fact that ebook readers are always more expensive in Europe compared to prices in the US.
Compound regional restrictions for ebook rights on top of this, where ebook stores will only sell certain ebooks to certain countries, and you've got a recipe for ebook reading disaster.
So I decided to scour the web for some sales on ebook readers in the United Kingdom. These are the best 5 ebook reader deals that I found.
1. Kindle International: Amazon dropping the price on the Kindle 2 to $189 USD now means that it costs about £130, plus shipping and import duties that are an estimated £36-£47.
Amazon now has over 400,000 ebooks in their UK library with most bestsellers and new releases priced between $11.99 and $13.99 with VAT included. They also have a number of international newspapers and magazines.
Kindle UK now has free internet as well, using the Kindle's basic web browser, so that easily makes it the best overall deal.
2. iRiver Story: Play.com currently has the iRiver Story on sale for £149. The retail is £299 but it usually sells for around £179.
The Story supports Adobe EBUB and PDF for ebooks purchased from UK websites like Foyles, Waterstone's, and WHSmith. The story also supports TXT, DOC, PPT, XLS, HWP, ZIP, JPG, BMP, GIF, MP3, WMA, and OGG formats for word files, comics, images, and audio.
3. Sony PRS-300: Amazon UK has the rose-colored Sony Pocket for £130. It usually sells for £150-£160. The Pocket Edition is a 5-inch ebook reader with a minimum of features. Check our hands-on review for more details.
4. Elonex 511EB: Waterstone's has been selling the Elonex 511EB for some time now at £129. It's well rated at 4.3 out of 5 stars over 36 reviews. It is a 5-inch ebook reader that has a mini keyboard under the screen. The hardware is manufactured by Hanvon, a well-known ebook reader OEM.
5. Sony PRS-600: Play.com has the Sony PRS-600 on sale for £199. The price for the Touch Edition usually hovers between £219 and £229 from most retailers. Check our hands-on review for specs and details on the PRS-600.