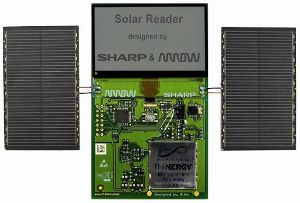 Sharp corporation, in conjunction with their distributor Arrow Electronics, has put together this proof of concept for a solar powered ereader using off-the-shelf components.
They believe it's possible to create portable devices such as ebook readers that don't require any kind of external power supply or replaceable batteries by using photovoltaic components that can produce voltage when exposed to radiant energy.
Sharp aims to achieve this by using their new Memory LCD technology that was unveiled last year at SID. Memory LCD panels have memory chips built-in to every pixel that stores image information. So instead of having to refresh the entire screen at a rate of 50 or 60 Hz, only the pixels where data changes are updated, reducing the refresh rate to 1 Hz.
Combine that with Polymer Network Liquid Crystal, a reflective display technology that removes polarizers to provide high contrast and wide viewing angles in bright lighting environments, for a potential competitor to the traditional electrophoretic displays that most current ebook readers use, called E Ink.
Whether Sharp has an actual ereader currently under production or not remains unknown. They've had plenty of time to come up with something in the past year since they announced the Memory LCD technology. Considering all the other big-name electronics companies jumping on the ereader bandwagon it wouldn't be surprising to see Sharp come up with something new to add to the mix.
Source: Electronics Weekly