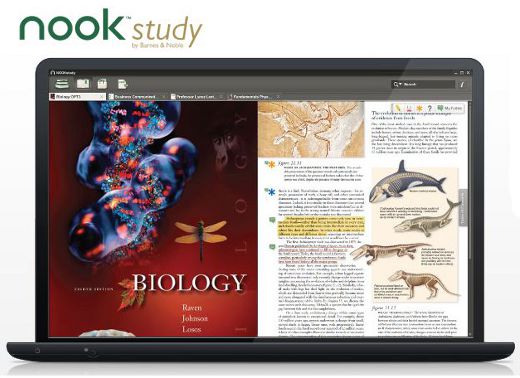 Today Barnes and Noble announced plans for a new online study program called NOOKstudy.
NOOKstudy is a free application for PC and Mac computers developed for the higher education market that gives students easy access to eTextbooks, syllabi, lecture notes, etc., with features like being able to add notes, highlight, search, zoom, and have multiple textbooks and pages open at the same time.
This is big news for Barnes & Noble because they own more college bookstores in the US than any other company, with exclusive relationships to distribute educational materials to hundreds of educational institutions.
B&N have had their hand in the higher education market for years, partnered with leading publishers of education material such as Pearson, Cengage Learning, McGraw-Hill, Springer, and Elsevier Science & Technology Books.
The program is expected to launch in August for the 2010 fall semester.
More key information from the press release:
NOOKstudy is a revolutionary, easy-to-use study tool that offers instant downloads of a large, versatile selection of eTextbooks and academic and trade titles. Among the innovative features developed with extensive feedback from college students, professors and administrators, NOOKstudy lets students view multiple books and sources at once and offers access to complementary content (e.g. toolsets, reference materials, etc.), as well as the unprecedented ability to highlight and take notes that are searchable and customizable. This comprehensive software solution also provides students access to all of their materials – eTextbooks, lecture notes, syllabi, slides, images, trade books and other course-related documents – all in one place, so their digital library goes wherever they go.