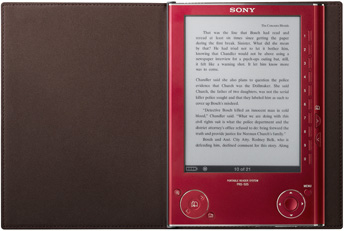 BooksAMillion is not only giving away Sony Readers this month, they are also selling the PRS-505 for just $99, or $89.10 for those with a club card.
They have the silver model and the red one pictured left.
The Sony Reader PRS-505 is one of if not the most popular Sony Reader of all time. Even though it was first releases nearly three years ago, it is still the benchmark that everyone uses to compare with new readers.
It has a 6-inch screen that uses the same Vizplex E Ink technology that all the current ereaders use expect the new Kindle DX—that shows you just how slow progress has been with this technology; it took them all this time just to improve the contrast by 50%, and still no color.
The Sony 505 comes with 256MB of internal memory and has an SD card slot for SD, SDHC, and Memory Stick Pro cards. It measures 6.9″ x 4.8″ x .3″ and weighs 9 ounces. It supports the following formats: Sony's old format LRF and LRX, Adobe PDF and EPUB, TXT, RTF, JPG, BMP, GIF, PNG, MP3, and AAC.
$99 is a good price for any dedicated E Ink ebook reader, and the Sony 505 is definitely worth every penny.