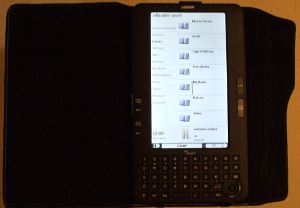 (Update: The full written review is now finished and is located on this new Augen The Book Review page.)
There's a new inexpensive color ereader on the market that goes by the name of Augen "The Book" (try to work that into a grammatically correct sentence).
In addition to reading and downloading ebooks, the Augen ebook reader can display videos, images, play music, and browse the web. It has a built-in speaker, headphone jack, QWERTY keyboard, and SD card slot. Here's a full rundown of the Augen's specs on this earlier blog post.
While the device is still listed as pre-order on websites like JR.com for $129, I was able to find one at a local K-Mart store this morning for $89 (thanks for the tip, Grace).
Here are my first impressions of the Augen ebook reader:
The TFT LCD Display
While it has a 7-inch screen like the Pandigital Novel, the Augen ebook has a much narrower screen because it is has a resolution of 800 x 480 instead of 800 x 600 like the Novel. The actual screen size is about 6″ x 3.4″. And in case it isn't obvious, the Augen does not have a touchscreen.
The color and quality of images and videos are both fairly decent given the price of the device, and the screen isn't nearly as reflective as most LCD displays. The font for menus and DRM-free ebooks is exceptionally bold, dark, and defined. Outside in the bright light though, the display is barely legible.
eBooks and PDFs
The Augen ereader supports Adobe EPUB and PDF, TXT, HTML, CHM, RTF, FB2, and MOBI/PRC text formats. Non-DRM ebooks have options for changing font type, line spacing, margins, and alignment. Ebooks can also be read aloud with the text-to-speech feature. Surprisingly, TTS also worked on some PDFs that I tried.
DRM ebooks on the other hand have less options for customizations. There are no options for changing font type, adjusting line height, margins, or anything like that. And for some annoying reason there are huge margins when viewing in landscape mode.
Of the PDFs I tested, none displayed that great. The zoom settings are hit or miss and there is no re-flow. Viewing them in landscape mode works decent, but the G-sensor doesn't automatically rotate PDFs for some reason; you have to go in and set it to the highest zoom level. Also, large PDFs take forever to load and page-turns don't seem to work all the time.
The weirdest thing about the Augen is that it has a keyboard and yet there is no option for adding notes to ebooks. No highlights or dictionary either. There is a notepad feature that can create, import, and export TXT files, but it is a separate app from reading.
Hands-on Video Review