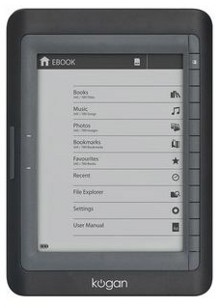 Suddenly, the competition for ebook readers in Australia is starting to heat up.
Kogan, an Australian consumer electronics company, has announced the new Kogan ebook reader to take on the Kobo Reader and Amazon Kindle.
At $189 AUD, the Kogan reader costs $10 less than the Kobo and roughly $50 less than the Kindle 2 after price conversion and shipping costs.
The Kogan has a 6-inch E Ink screen with a resolution of 800 x 600 and 16 shades of gray—the exact same as the devices mentioned above.
It comes with 2GB of internal memory and an SD card slot for cards up to 32GB. It runs a Arm 9 Core processor and has a Linux 2.6 operating system. The battery is listed at 10,000 page-turns.
1500 free classic ebooks are included from Project Gutenberg, and the Kogan Reader supports Adobe DRM for purchased ebooks from a number of ebook retailers, including Australian stores like Borders and eBooks.com
.
According to the Kogan website, the device supports an impressive array of formats: PDF, CHM, EPUB, TXT, HTM, HTML, RTF, PDB, DJVU, DJV, IW44, IW4, FB2, OEB, PRC, MOBI, TCR, OPF, JPG, GIF, BMP, PNG, TIFF, and MP3.
Six languages are supported as well: English, Italian, French, Russian, Dutch, and German.
The device comes with a leather carrying case, earphones, USB cable, and charger.