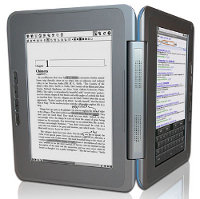 Entourage Systems, the company that makes the Entourage Edge, released three press releases today and yesterday, announcing some new content partners.
First, the Entourage Systems' ebook store will soon have an additional 1,000 EPUB ebooks from O'Reilly Media. According to the press release, the Entourage ebook store already has over 200,000 trade titles, e-textbooks, magazines, and newspapers, in addition to a million or two of Google's free public domain books.
The second press release is the biggest news. Entourage has partnered with Cengage Learning, a leading provider of innovative teaching, learning and research solutions for the academic, professional and library markets worldwide—according to their website.
The partnership will provide the Entourage Edge access to the Cengage Learning catalog of digital books to students and educators through the unique Entourage Edge platform coming this fall semester.
The third press release is about Entourage partnering with the University of Chicago to include additional educational titles into the Entourage Systems' ebook store.
The partnership with The University of Chicago Press will offer over 1,000 digital titles in the sciences, humanities, and social sciences, with particular strengths in sociology, philosophy, the life sciences, economics, history, anthropology and literary theory fields.
The last bit of Entourage Edge news is that the device is now listed on Best Buy's website. It has said "Coming Soon" for a couple of weeks now. They only show the midnight blue model, the one that sells for $499. The black, white, red, and ice blue models sell for $539 from Entourage's website. No sign of those at Best Buy.