The Copia Tablet and 4 New eReaders from Copia: Specs, Pricing, and Pics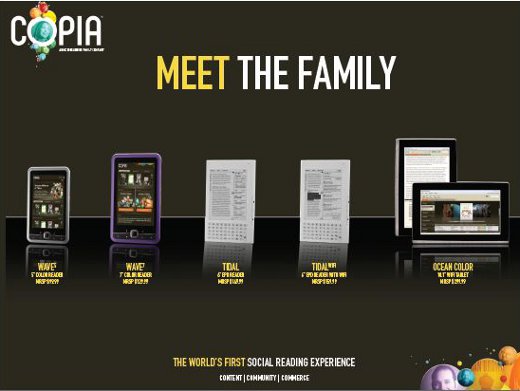 There's going to be a lot of news about the new Copia eReaders, the Copia Tablet, and the Copia Marketplace in the coming weeks and months, so let's get things started with a first look at the preliminary specs and prices on the 5 new devices set to launch this fall.
The folks at Copia were nice enough to send over a spec sheet for all their new devices so I've gone ahead and posted all the information and a few pictures on our dedicated Copia eReaders page. Keep in mind that the specs and prices are not official just yet; stay tuned for further updates. By the end of next week we should have a lot more information and some additional pictures to add to the page, along with some updates about the Copia ereading platform.
Click here for the preview of the new Copia eReaders and Copia Tablet »