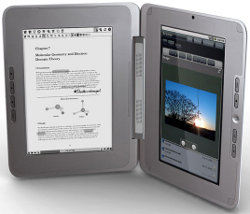 Just happened to notice that the Entourage Edge, the first foldable device to have both E Ink and LCD touchscreens, is now selling online from Best Buy along with some other retailers. In fact, the Entourage Edge website now refers all orders to their resellers, even though they still sell accessories.
Interestingly, the price is listed at $499 from Best Buy for the Midnight Blue model, which is the only color they currently have listed, and some other vendors are selling the Edge for $549. PC Connection has them for $499 as well, and have several color options to choose from. The disparity in pricing doesn't make any sense, especially when Entourage is listing the higher price on their website.
It's odd that Best Buy sells them online only. Given the Edge's uniqueness, getting them in stores for people to see and try out would make a lot more sense.
Entourage Edge Quick Specs
9.7-inch E Ink Screen with Wacom Tablet Touchscreen and 1200 x 825 pixel resolution, 8 shades of gray.
10-inch color LCD touchscreen with 1024 x 600 pixel resolution.
Linux with Google Android operating system.
Built-in 802.11b/g Wi-Fi.
2 USB ports.
Internet browser.
Size (closed): 8.25″ x 10.75″ x 1.0″.
Weight: 3 pounds.
Memory: 4GB (3GB available) and SD card slot.
Screen rotates 90° and 180°.
Battery: 16 hours E Ink, 6 hours LCD.
Bluetooth compatible.
Built-in microphone, speakers, and webcam.
Supported formats: EPUB, PDF, DOC, PPT, XLS, ZIP, MP3, WAV, 3GPP, AMR, AAC, OGG, M4A, 3GP, MP4, Flash Lite.