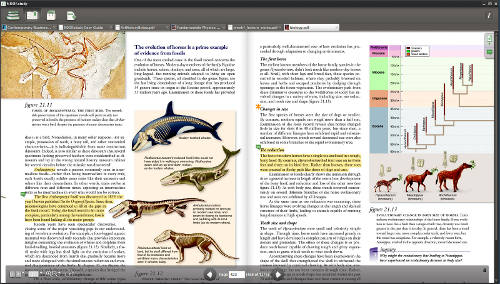 Back on August 3rd, just in time for back to school, Barnes and Noble released their new free textbook software called NOOKstudy.
NOOKstudy is designed for college students so that they can manage all their digital content on a PC or Mac computer in one place—eTextbooks, notes, syllabi, books, presentations, classwork, etc.
Some features of NOOKstudy include instant access to B&N's large library of eTextbooks from major publishers, free 7-day trial for eTextbooks, it can open multiple eTextbooks at once and view two at the same time, add notes and highlights, search, research online, change font type and size, and easily import other PDF and EPUB documents and ebooks into the program to centralize all content in one place.
Overall, NOOKstudy is a pretty decent app, even for just reading ebooks. The notes and highlight features work well and there are plenty of options for changing font size and type, zooming in, and being able to view the eTextbooks in color is a major positive over monochrome E Ink ebook readers like the Nook and Kindle.
NOOKstudy: Getting Started
After downloading NOOKstudy and installing it, you have to either start a Barnes and Noble and Adobe account or sign in with your existing accounts. The Adobe account is needed because the eTextbooks and ebooks have Adobe DRM. This is the most annoying part of the whole process, not being able to test the program without starting a B&N account that requires a credit card number. But once that's finished, the program is good to go.
If you already have a B&N account, all your EPUB and PDF ebooks will sync with the program and will appear in the library. If not, it's time to import or download some free ebooks and/or some free samples of eTextbooks.
Unfortunately, the app does not have a shopping app built-in. Clicking on the "Shop" icon brings up a search box that will open a browser and re-direct to B&N.com. Once you choose a title to download, you will then need to click on the sync button within the NOOKstudy app to show the title you selected.
Important: If you are going to be away from the internet, make sure the titles are downloaded. Just because they appear in the library list doesn't mean they are downloaded to your computer. You have to click on them and wait for the green bar to show that it is finished downloading.
NOOKstudy Videos
Here's a custom YouTube video player that has all of B&N's NOOKstudy videos in one place. Just click the arrows or the weird looking icon next to the play button to choose from the other videos.
NOOKstudy Feature List
Dual Book View: Open two textbooks side-by-side.
There are tabs so that you can have a number of books open at once and quickly jump from one to another.
1 and 2 page views.
Table of contents.
Zoom from 25% – 200% in increments of 25, view actual page size, fit to width, and fit page for PDFs, textbooks.
4 font sizes for ebooks.
6 font types for ebooks: Amasis, Ascender Sans, Century Schoolbook, Gill Sans, Joanna, and Times New Roman.
Jump to page.
Run searches.
Add notes and highlights.
Tag notes.
Multiple options for highlight colors and mark highlights with questions and asterisks.
Right-click to research online with Dictionary.com, Google, Wikipedia, Wolfram Alpha, and YouTube.
Print and copy are allowed on some books. Textbooks have limits on printing.
NOOKstudy for eTextbooks
Reading the FAQ for eTextbooks, there are a few things to be aware of:
Read eTextbooks on up to 2 computers.
Free 7 day trial for most digital textbooks, which includes the full book.
Once a Textbook is downloaded, you don't have to be online to access it.
Textbooks must be accessed with the NOOKstudy app. They are not available for online viewing or with other programs.
Publishers restrict the number of times a textbook can be printed or copied (this varies from title to title). B&N lists each book's restrictions on the product details page and within the NOOKstudy application.
eTextbooks do not include CD content or other companion materials that may be available with the new physical book.
Textbooks available to US and Canadian residents only.
Conclusion
While I'm not a college student and can't give the app the full eTextbook perspective (for those that are, please feel free to leave comments), I'd say that compared to other e-reading apps, the NOOKstudy app is pretty impressive, offering some nice advanced features and easy to use interface with access to a wide range of digital textbooks.
But it could still be a lot better. Format support is limited to PDF and EPUB. Why no Text and Word documents, at least? There's no built-in reference, not even a dictionary, those features all require internet. Changing themes like background color and text color aren't available, there's no in-app brightness adjuster, and there doesn't seem to be any way to export notes—they are saved in the B&N cloud. Future updates may add these and more features, but for now the app is somewhat limited.