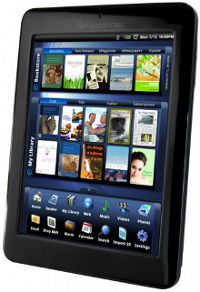 Pandigital officially announced today a new black Pandigital Novel that has some upgrades in features over the white model that I reviewed a couple of months ago.
The new Pandigital Novel is expected to hit stores next month for the suggested retail price of $199.
Like the white version, this one ties in with Barnes and Noble's ebook store, has a 7-inch LCD touchscreen, with a matte finish instead of glossy like the white Novel, and is really more of a multimedia/internet browsing device than an ereader.
It can play videos, music, display photos and sideshows, and most importantly it has a Google Android operating system, although apps currently cannot be accessed.
The main difference between the white Novel and the black Novel is that the black is slimmer, has an extra 1GB of memory, comes with a stylus, and has a matte screen instead of glossy. The black Novel also has some different hardware and button and port configurations.
Check back soon for more updates.