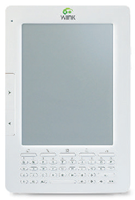 India has a new ebook reader brand that goes by the name of Wink. They use the term Wink for all kinds of things, such "Wink to make a difference", "Wink at education", and "start Winking". It's so stupid that it's actually kind of catchy.
Not only is the Wink a new line of ebook reader, it's also the name of their ebook store: the Wink store, where there are about 200,000 ebooks to choose from, including (you guessed it) Wink classics.
There are currently 4 different models of the Wink listed on the Wink website. The two that are currently available for pre-order (they are expected to ship September 1st) are 6-inch ereaders, one has 3G wireless and a touchscreen while the other does not. There's also another 6-inch model and a 9-inch model listed that both say coming soon.
As for the two that are up for pre-order, the Wink XTS and Wink X3G, the specs are as follows, the only difference being the X3G has 3G wireless and a touchscreen.
6-Inch E Ink Display with 16 levels of gray and a resolution of 600 x 800.
WiFi (802.11 b/g) GPRS with Quad Band Support (850, 900, 1800 & 1900).
2GB internal memory and SD card slot for up to 16GB.
Supports text-to-speech.
3.5mm headphone jack.
Micro-SIM card slot.
Battery life: 8,000 page-turns.
Processor: 400 MHz ARM9.
Dimensions: 185mm x 124.6mm x 10.9mm.
Weight: 260g with battery.
Supported formats: TXT, RTF, PDF, DOC, HTML, WOLF, CHM, FB2, DJVU, MP3, AAC.
The Wink X3G is listed at Rs. 14990 (converted that's about $325 US) and the non-3G model is listed for Rs. 11490 (about $250).
What's interesting is that the pictures shown for the 4 devices all have the same design with a keyboard below the screen as shown in the image above. But then there's this one stray image on the Wink site (shown below) that looks a lot like the Barnes and Noble Nook with a secondary display below the E Ink screen. I wonder what's up with that?