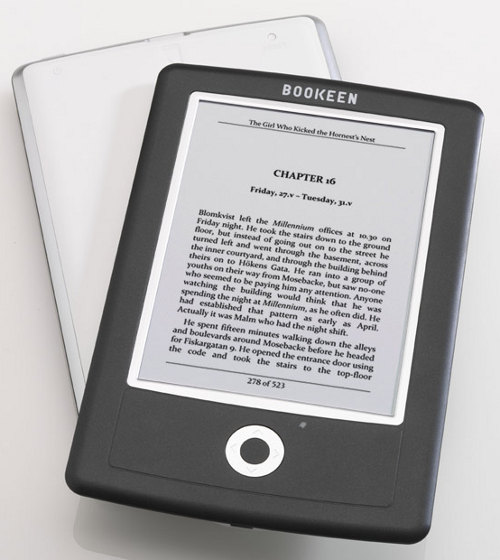 Bookeen just posted some news and pictures of the Cybook Orizon over on their blog. There are two colors, one white and one black. And both appear to come with the case shown in the picture.
While most of the specs of the Cybook Orizon aren't mentioned, there are some intriguing details. The Cybook Orizon has a touchscreen that is integrated into the screen itself, so there is no added layer. The screen supports 16 levels of greyscale and measures 6-inches diagonally with a resolution of 600 x 800 at 167 dpi.
The last bit of details are the dimensions. The Cybook Orizon measures 4.9" x 7.5" x 0.29" thick, and weighs 8.6 ounces. As for the rest of the device's specs, we'll have to wait and see.
It isn't specifically mentioned on Bookeen's blog post, but the Cybook Orizon is expected to use epaper displays from SiPix instead of the more common E Ink screens. SiPix is similar to E Ink, but the technology is slightly different. Other features not official include a micro SD card slot and built-in WiFi.
Here's a look at the Cybook Orizon. This video is a few months old so the device is likely a prototype at this stage and my differ slightly from the actual model that is expected to release sometime in September.