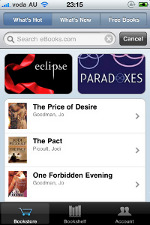 There's a new iPhone and iPad app from eBooks.com called Ebook Reader. It's available for free from the iTunes store.
According to the Ebook Reader website, the app supports iPhone/iPad format, ePub for Adobe Digital Editions, and unencrypted ePub.
Not sure what they mean by iPhone/iPad format; it certainly doesn't support Apple's proprietary ePub DRM. Perhaps it implies that they use a different format for sending ebooks to this app?
If you have an account with eBooks.com
, all your previously purchased ebooks are supposed to be available in the app, as well as those purchased online and not within the app itself. The app can be installed on up to 3 iDevices per account so that you can read on whichever device you choose.
Here is the description of the Ebook Reader app's features from iTunes:
Turn pages with a tap or swipe
Zoom with a pinch
Never lose your place in the book
Landscape or portrait orientation is lockable
Read sample chapters before you buy
Easy navigation inside the book
Night-reading mode is easy on the eyes
Adjust font size with a pinch or tap
Login with your existing eBooks.com account
Sync your eBooks.com online bookshelf with your Apple device
Free classics at your fingertips immediately
Shop for ebooks within the app
Buy New York Times bestsellers as well as technical, professional and academic books
Read your book online from any internet-connected device
Online backup – your online ebook library is always accessible, so anytime you get a new PC or phone, your books are ready to download from your eBooks.com bookshelf
September Coupon Codes for eBooks.com
Labor Day Sale at eBooks.com – 15% off on ebooks. Use code: labordaysalecp. Valid September 1 to 7, 2010.
Back to School Promotion at eBooks.com. Save 12% on Academics Books! Use coupon BTSBOOK%SALEcp upon checkout. Valid until 15-Sep-2010.
eBooks September Promotion.
Save $6 on purchase over $60. Use code – 6off60ebookscp – until September 30, 2010 only.
Fall Promotion at eBooks.com Enjoy 12% off on minimum purchase of $40. Use code – fallreadingscp. Valid until 31-Oct-2010.
Use code: categorysalecp for 20% off at eBooks.com on subjects: Family, Social Science, Romance, Mathematics, Education, Humor, Medicine, Science Fiction, Transportation, and Foreign Language.
Celebrate Rosh Hoshanah by reading religious books! Save 15% off Religion category at eBooks. CODE: roshhashanahcp
Celebrate Eid al Ftr by reading religious books. Save 15% off Religion category at eBooks. CODE: eidalftr2010cp
Romance Category Books Sale – 20% off purchase on eBooks.com. Use coupon – categorysalecp
Grandparents Day at eBooks.com Enjoy 15% off upon checkout. Use code – grandparentscp – on books under the Family and Relationships category.