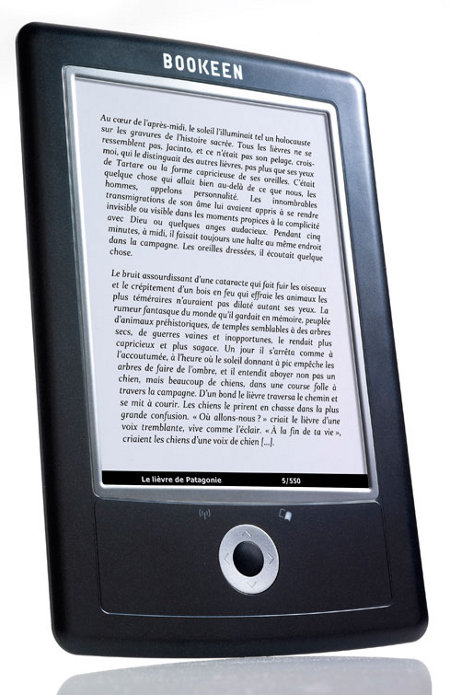 Just as Sony is in the midst of releasing their new Sony Readers with glare-free touchscreens, Bookeen is getting set to release a new ebook reader of their own that also has a glare-free touchscreen, the Cybook Orizon.
The Cybook Orizon is going to be a lot different than Sony's ebook readers, however. Sony's touchscreens use a Pearl display from E Ink, and utilize zForce touchscreen technology from a company called Neonode.
The Cybook's screen comes a different company called SiPix. SiPix screens are similar to E Ink's in that they are both based on the science of electrophoresis, but each uses different methods to achieve their displays. SiPix screens are newer and still a bit of a mystery, since no major ereader outside of Asia has used them yet.
As for the Cybook Orizon's touchscreen, it incorporates "Caress touch ePaper" technology, according to what is effectively a press release on Bookeen's Facebook page that reveals a lot of details about the new SiPix-equipped, multi-touch Cybook Orizon.
Pre-orders start on September 25th from Bookeen.com and retail partner sites. The suggested retail price is €229, and the device is expected to start shipping in mid October. An email from Bookeen indicates that the Orizon will be sold to the US from the Bookeen website, as all the other Cybook ereaders have, but there's no word on price just yet.
Update: The US price is $249, but shipping is about $30. If you hold out until Bookeen's US partners start getting shipments, the shipping will probably be free or a few bucks. The other Cybooks sell on Amazon, so this one likely will too . . . eventually.
Aside from the touchscreen, the other big new about the Cybook Orizon is that it comes with WiFi and will have an unrestricted web browser for downloading ebooks in supported formats directly to the device itself.
Bookeen's is based in France so their main focus is on the European market. Here's a snippet from the press release:
Bookeen will address all major European countries. Bookeen will bring every local Book catalogue to the Cybook Orizon, enabling European customers to buy their books in their own language. To enable his European bookstore, Bookeen collaborates with major players in digital book distribution in Europe.

We will begin with France. French customers will enjoy access to most of the French digital catalogue: 25,000 titles issued by 185 publishers.

The same set will be rolled out at the end of the year in many European countries, such as Italy and Spain.
Below are the specs for the Cybook Orizon. If you want to see it in action there's a quick video of a prototype on this earlier blog post.
Cybook Orizon Specs
6″ SiPix Touchscreen with 16 levels of grayscale
800 x 600 pixel resolution with 167 dpi
Wi-Fi (802. 11 b/g/n)
Bluetooth (2.1+EDR)
Web Browser
Memory: 2GB internal; microSD card slot for cards up to 8GB
Battery: 10000 page turns
Comes with 150 free classic ebooks
G sensor automatically rotates screen
12 font sizes
Annotation, note taking, and highlighting functions
Supported Formats: Adobe DRM, EPUB, PDF, TXT, and HTML files; images: JPEG, GIF, and PNG
Dimensions: 125.7mm x 189.49mm x 7.6 mm (4.9" x 7.5" x 0.29")
Weight: 245 grams