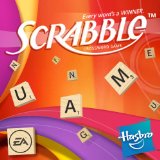 The Kindle just got its first paid app. Scrabble. And it costs $4.99 from the Kindle Store.
This adds to two other word games for the Kindle, both free, that I've tested and found that they actually work pretty well, Shuffled Row and Every Word.
I'm too cheap to test Scrabble, though. $4.99? Seems a bit steep to me. Guess I'm not that much into Scrabble.
The reviewers that have bought it seem to like it well enough. There are 4 reviews, all 5 stars. To quote one reviewer:
The game is very well-thought out and was obviously designed with great care so as to make people feel that they are getting something of substance for their money. There is a list of two-letter words that this game accepts and that you can consult at any moment. These words are a customary bone of contention between experienced Scrabble players, so it's nice to see this whole issue resolved here. There are hints you can use. The game allows you to choose your moment when you want it to help you find the best word possible at this particular time in the match. There is also a function that permits you to revise all the moves that you and your opponent(s) have made so far. The game keeps track of your stats, which will let you participate in full-blown Scrabble championships with your friends.
Scrabble for Kindle is made by Electronic Arts, a major video game company, so it ought to be good and polished. Here's the product description:
With SCRABBLE for Kindle play the game you know and love – anytime, anywhere.

Simple controls make it easy to play any way you want, whether you're a casual or experienced SCRABBLE player. Pass N' Play with a friend, challenge the Kindle, or play a solo game. If you need help, use the Best Word feature to create the highest scoring word possible. You can even pause the game anytime and pick it up later.

Follow your progress game by game with instant statistics tracking. As your game-play and strategy improves, you'll find more ways to rack up double and triple word scores.

Enjoy the number one name in crossword games, and sharpen your vocabulary in a fun new way.
Kindle for Android App Updated
Amazon issued a press release yesterday announcing that the Kindle for Android app has been updated to include several new features. Here's a quote:
Kindle for Android now enables customers to search the full text of Kindle books by voice or text, seamlessly look up words and phrases in Wikipedia, lock screen orientation in portrait or landscape mode, and view details about a book on Shelfari, the books-focused social networking site — all without leaving the app. Additionally, Kindle for Android is the only reading app for Android-based devices that allows readers to add notes and highlights to books, and have them automatically synchronized between devices.