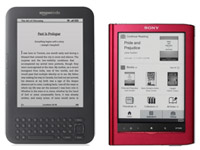 This Kindle 3 vs Sony PRS-650 review outlines all the differences between two of the most popular ebook readers on the market.
Trying to decide between getting a Kindle 3 or Sony PRS-650 is not an easy task (I'm glad I don't have to choose). Hopefully this post can help you make the right choice for your specific ereading needs.
You can visit each of these ereader's main review pages to learn more about them and to see video reviews and PDF reviews. Here's the links to the Kindle 3 review and the Sony PRS-650 review.
Kindle 3 vs Sony PRS-650 Video Comparison
Kindle 3 vs Sony PRS-650: Kindle Advantages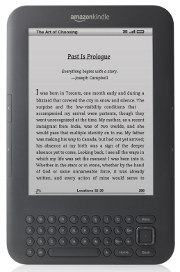 Wireless connectivity, WiFi and free 3G in over 100 countries – check 3G map
Basic web browser
Download free ebooks from various websites with web browser
Text-to-speech
8 font sizes vs the Sony PRS-650's 6
Send ebooks for free to the Kindle 3 via Kindle's free email address
Compatible with all of Amazon's Kindle reading apps for reading and syncing with all of Apple's iDevices, PCs and Mac computers, Blackberry phones, and Android devices
Built-in speakers
Share passages via social networks directly from the Kindle 3
Popular highlights shows most highlighted sections by other readers
For PDFs the pre-set contrast darken settings work better and are easier to use than Sony's contrast adjusting dial
Choose from 3 font types
Adjust line spacing
Adjust margins
Voice Guide for the vision impaired reads aloud menus, selections, and descriptions
Kindle 3 available in over 170 countries – check list
Amazon offers considerably more newspaper and magazine subscriptions, and blogs and ebooks too
Amazon's ebook prices are generally the same or better than Sony's
Amazon offers a lot more weekly free ebook promotions
All annotations and highlights are backed up by Amazon
Notes are saved as a TXT file and are easier to access than Sony's, which are only accessible with the Reader Library
Take screenshots with the Kindle 3
Built-in microphone (currently inactive)
Longer battery life (2-4 weeks vs up to 2 weeks)
Landscape mode is better, it doesn't duplicate sentences like the Sony does
Comes with 2x as much internal memory (4GB)
The Kindle 3 costs considerably less
Kindle 3 vs Sony PRS-650: PRS-650 Advantages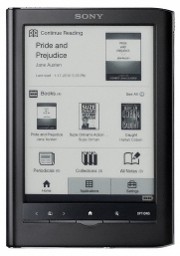 Touchscreen
Supports the open standard format, ePub
Supports Adobe DRM for ebooks purchased from a wide range of ebook stores
Works for borrowing free library ebooks from libraries
SD and Pro Duo memory card slots
Write notes and scribbles directly on an ebook or PDF
Table of contents seems to work better (some of the same ebooks that have a TOC on the Sony don't have it on the Kindle 3)
Active hyperlinks for PDF files.
History feature allows for going back and forth between all previously visited pages within a book
The PRS-650 is lighter and smaller without the Kindle's keyboard
Option to show book covers for ebook library (the Kindle 3 just shows a list)
While subjective, most people would agree that the Sony PRS-650's appearance is more attractive than the Kindle 3
Seven languages supported for menus
Nine different keyboards for different languages/regions
Word log keeps track of words looked-up in the dictionary
Keyboard history offers quick word selections
Slideshow feature for images
The PRS-650 is easier to hold one handed and turn pages in a number of different ways
Type text memos
Drawing app
Change screensaver images
Add different fonts with a font hack (for DRM free ebooks)
Quickly scan through pages
Custom Zoom dial
Margin cut mode
2 and 3 column zoom for 2 and 3 column PDFs
PDF reflow (PDFs have to be converted to Amazon's AZW format for reflow on the Kindle 3)
10 translation dictionaries
More solid build, metal vs plastic
Kindle 3 vs Sony PRS-650 Review Conclusion
Choosing between buying the Kindle 3 and Sony PRS-650 is not easy, but the good news is that you can't really go wrong with either if you are looking for a good quality ebook reader that is easy to use and get ebooks for.
Both are made by two of the founders in the ebook reader field, and both are polished ereaders, each with its own unique set of advantages and disadvantages. For most people, it all comes down to wireless and EPUB support. Which is more important to you? Too bad we can't merge the two devices together to get the best of both worlds.