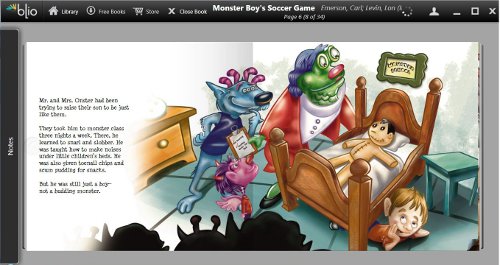 There's a new ebook reading platform called Blio for Windows computers and tablets, with apps for iOS, Android, and Silverlight platforms coming soon.
With Blio you can read ebooks, purchase ebooks from Blio's new store, and download free ebooks from Google and Feedbooks (although this last feature currently is not working, but does work for the Toshiba Book Place app, which is the same exact software :roll:).
Overall, there are some good things and bad things about the Blio platform and software.
The Bad:
Blio uses Microsoft's XPS format and a new form of DRM for their digital library, so any ebook you buy from Blio is not going to be compatible or viewable on any other ebook reader or device not running Blio software.
Blio only allows you to add ebooks to your library in XPS format, no EPUBs or other formats at all.
Downloaded EPUB ebooks from Google and Feedbooks get converted to XPS format for viewing on the Blio software.
Very limited ebook selection as of this writing.
No fullscreen mode.
Notes aren't available outside the ebook they are added to, no export.
The Good:
As you can see from the pictures in the post, children's books, cookbooks, and color books in general look great.
Add notes to books using text, images, and hyperlinks.
Text-to-Speech with adjustable speaking rate, several languages, and changeable voices (publishers determine if this feature is active; some claim it violates copyright laws).
There are a number of book viewing options: two page, full-width single page, thumbnails, text reflow, readlogic, and 3-D book view.
Custom Zoom dial.
Text reflow mode has 1 and 2 column options, along with 5 text sizes.
Search references with user definable references.
Support audio and video embedded within books.
Print ebooks (provided the publisher allows it).
Supports touchscreen for touch-enabled devices.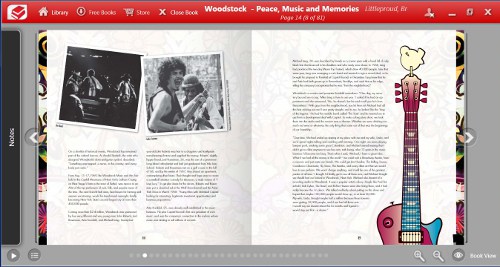 Blio eReader Review: Conclusion
Being created by Ray Kurzweil, the Blio eReader platform has high expectations. A lot of the software's features and functions look promising, but the fact that Blio uses yet another form of DRM is what hurts it the most. And the fact that it is so anti-compatible with other ebook formats makes matters worse.
It says that it supports EPUB, but there is no way to add EPUB files to the Blio software except by downloading them through it (which currently only works on the Toshiba app). I tried adding EPUB ebooks to the folder and they simply would not show up in the library and the software will only open XPS files.
So what it comes down to is that with the Blio software you can pretty much only use it for items purchased through the Blio store. And you can't view those items on anything but the Blio software. In the end, it looks like the success of Blio greatly depends on what future devices it comes installed on, because right now there aren't many options other than a desktop PC or Windows tablet—both of which have many other options available for ebook reading programs from bigger, more established ebook stores like Amazon and Kobo.
Toshiba Book Place Video Demo
Here's a video demo of the Toshiba Book Place app. It is identical to the Blio app, just with a red bar along the top with Toshiba's logo instead of the Blio logo and black bar.