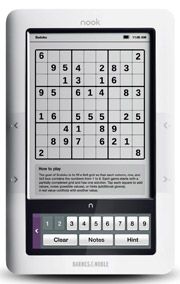 It was announced yesterday on the official Barnes and Noble Nook blog that the biggest firmware update since the Nook was launched is coming next month.
The update version 1.5 is said to "dramatically increase" page-turn speed and include feature and performance enhancements most requested by Nook owners.
Other improvements mentioned include improved search functions, customized B&N library organization, the ability to sync last page read across all Nook apps, and password protection.
The update is expected to be available for manual download at the end of November on the Nook support page, or via WiFi to the Nook itself.
With B&N calling it the biggest firmware update since the Nook was launched, it makes you wonder what other feature enhancements they've added. With a statement like that it's going to have a lot to live up to. Previous firmware updates have added a web browser, sudoku and chess, in-store reading, go-to-page function, improved WiFi, etc.
The firmware update certainly is going to make many Nook owners happy, but will it be enough to draw in new customers? Now that Amazon and Sony have both released updated versions of their ereaders with new hardware and upgraded features, B&N needs to do something big to increase sales over the upcoming holiday season, like introducing a Nook 2.