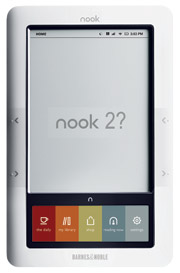 October 20th is the one year anniversary of the official unveiling of the Barnes and Noble Nook.
At the time it was a big announcement. The Nook was the first ebook reader to offer ebook lending and to feature a color LCD display in addition to the E Ink display.
Barnes and Noble priced the Nook at $259, the same price as the Kindle 2 at the time. It was more popular than B&N had anticipated; it sold out in under a month and it wasn't until February before B&N retail stores starting getting them in stock.
Then on June 21st Barnes and Noble introduced the Wi-Fi-only Nook for $149 and reduced the price of the Nook 3G to $199.
So when is the Nook 2 going to be announced?
The Wi-Fi Nook is the same as the original, except the 3G wireless of course, so it's not really a proper Nook 2.
If Barnes and Noble has a Nook 2 in the works—a faster, lighter, updated version—they've certainly been quiet about it; there aren't even any substantial rumors floating around the net.
If B&N were to launch a Nook 2 and have it ready in time for the holiday season—something they botched last year by underestimating the demand of the product—they would have to announce a release date within the next couple of weeks to have it ready to ship by the beginning of December.
The way I see it, if B&N doesn't reveal a new Nook by the 10th of November, it probably won't be happening for a few months down the road.
Update: Barnes and Noble has sent out media invites for an event on Tuesday, October 26th in New York to make an announcement. It's likely that a new Nook will be unveiled at this event!