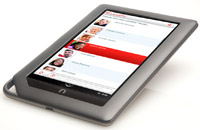 Here are three videos of the new Nook Color by Barnes and Noble.
These first two videos shows how B&N is focusing a lot on color content in the form of periodicals, cookbooks, and children's books. It shows the AliveTouch feature in action, which allows kids to interact with books and have them read aloud.
The magazine demonstration looks interesting. There's a window that pops up below the main article for scanning through pages and looking ahead. There's a table of contents pop-up complete with images, headings, and descriptions. Then the newspaper video shows how there's an article view for streamlined reading without any images or distractions.
B&N Nook Color Guided Tour
Nook Color Newsstand
Nook Color Hands-on Video
LaptopMag was able to get their hands on the Nook Color at the Barnes and Noble press event. This video is the most revealing of the three; it really shows the new Nook in action. The responsiveness of the touchscreen looks good, and colors are bright and vivid. There are plenty of customizing options for adjusting the appearance and formatting of ebooks. The video mentions that the Nook Color does not support Flash, unfortunately.