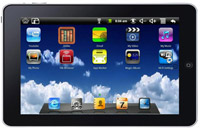 There's suddenly a number of sales going on for ebook readers and tablets, with several coming in at just $99. Borders is running a sale on all of their ereaders and tablets, and Walgreens of all places has a really inexpensive Android Tablet for sale.
First, Borders has the Velocity Micro Cruz Reader marked down to $169, $30 off the regular price. The Cruz Tablet isn't discounted but comes with a $25 gift card on all pre-orders.
For ereaders, Borders has the original Kobo eReader marked down to $99, which includes double Borders bucks, and the Aluratek Libre is down to $99 as well.
All of these deals at Borders last until 10/31, which includes 20% off all ereader accessories with the purchase of an ereader.
Lastly, Walgreens has the Maylong M-150 Android Tablet on sale this week for $99. It is a 7-inch tablet that runs Android 1.6.