Pandigital Novel Review: 6″ SiPix Personal eReader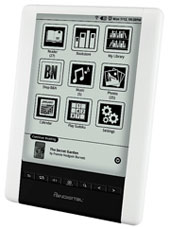 Here's a review of the new Pandigital Novel Personal eReader, not to be confused with the other Pandigital Novel ereader that has a color LCD screen.
This particular model, the "Personal" ereader, is more like a traditional dedicated ebook reader with an energy-efficient epaper display that doesn't have a back-light. It uses a new kind of epaper display—different from the Kindle and most other ebook readers—called SiPix. Check out the review for the details . . .