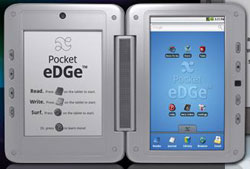 Entourage Systems, makers of the first dualbook, the Entourage Edge, has just announced a new smaller version of the device called the Pocket Edge.
The Pocket Edge has two screens. On the left side it has a 6-inch E Ink screen with a Wacom touchscreen. On the right side it has a 7-inch LCD touchscreen. The hinged design makes it so you can fold the screens together or 180 degrees back.
The press release explains more about the dual screen design:
The 7" LCD screen is ideal for Web browsing or viewing videos. The LCD side allows users to send emails to quickly stay in touch and manipulate Microsoft Office documents. Users can take advantage of useful applications that are already incorporated into the software, such as the built-in calendar app which makes it easy for users to keep track of appointments. The Pocket eDGe also operates on the Google Android operating system, providing access to numerous helpful Android applications available at enTourage Systems' application store and other third-party developer sites.

The other side of the product contains a 6" E-Ink screen for accessing any e-books and documents in EPUB. It is also compatible with PDF documents. The E-Ink screen is Wacom Penabled, allowing for easy annotation or note-taking with an included stylus, when the Journal function is activated. With this technology, users can mark up documents, such as notes, recipes or contracts, and then send them as PDFs to friends and colleagues.

The two screens uniquely interact. Users have the ability, for example, to search terms and key words from e-books in Google, a dictionary or via Wikipedia on the LCD side. The Pocket eDGe has built-in speakers, a microphone and a camera – letting users record lectures and meetings, or capture images, listen to music and watch videos. The mobile professional or student can also project presentations through a USB-Video adapter.
Pricing and Availability
The press release says the Pocket Edge is coming in November, but doesn't give a specific date. Entourage's website lists several places to purchase the Pocket Edge for a price of $399, but the only one that's showing the Pocket version as of this writing is Amazon. They have a red one and a black one listed, but the black is currently "temporarily out of stock".
Pocket Edge Spec
Here are the specs for the Pocket Edge as listed on the Entourage website.
Dimensions: 5.5″ x 7.5″ x 1.0″ closed,11.0″ x 7.5″ x 0.5″ open
Weight: 1.35 lb
Tablet screen: 7.0″ WXGA (800×480)
Tablet input: Resistive touch (use finger or stylus on screen), optical finger pad
Reader screen: 6.0" e-Ink® (800×600), 16 shades of gray
Reader input: Stylus (Wacom Penabled®)
Operating system: Linux® with Google® Android™
Internal memory: 3GB
Connectivity: Wi-Fi™ 802.11 b/g, Bluetooth® capability, Ethernet-to-USB adapter available
Screen Rotation: 90 and 180 degrees (tablet), 180 degrees (reader)
Reader file formats: ePub, PDF
Tablet video formats: 3GP, MP4, Adobe Flash Lite® (H.264), AVI (DivX or Xvid encoded), MOV, WMV
Tablet audio formats: MP3, WAV, 3GPP, MP4, AAC, OGG, M4A
Keyboard: Virtual keyboard on tablet screen or connect your own by USB
MicroSD card slot
Standard USB port
Mini-USB port with mini-USB-to-USB cable included
Battery life: up to 6 hours, or up to 11 hours using only the reader screen
Camera: 2 megapixel with video capability
Built-in microphone
Built-in stereo speakers
3.5mm headphone/headset jack (TRRS)
Entourage has posted a couple of YouTube videos showing the features and functions of the new Pocket Edge.
Getting to Know the Pocket Edge
The Pocket Edge from Entourage Systems