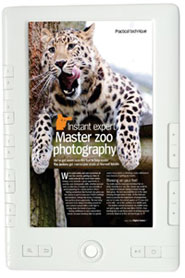 Here's a look at the Iview 700EB color ebook reader that I just happened to stumble across while running a search on Amazon.
It looks a lot like several of the other color ereaders coming onto the market lately like the Skytex Primer and Augen eReader. Like those, it has a 7-inch TFT LCD screen with a widescreen pixel resolution of 800 x 480.
Unlike either of those, the Iview has a row of buttons that runs down the left edge of the screen.
For hardware, the Iview 700EB has an Arm9, 400MHZ processor and 512MB DDR memory. It comes with 2GB of storage and has a microSD card slot for cards up to 32GB. There's a built-in speaker and 3.5mm headphone jack. The device measures 8.06" x 4.24" x 0.72″ and weighs 12.8 ounces.
For ebooks, the Iview supports Adobe DRM for EPUB and PDF ebooks, as well as TXT, FB2, PDB, and HTML formats. For videos it supports AVI, DIVX, MP4, RM, and RMVB. Music formats include MP3, WMA, AAC, WAV, and OGG. And the supported image formats are JPG, BMP, PNG, and GIF.
According to the specs, the battery is rated at 12 hours for ebook reading, 8 hours for music, and 3 hours for video playback.
The Iview eReader is currently listed at $109, but there aren't any reviews for it yet. The product says it comes with a USB cable, AC charger, and protective cover.