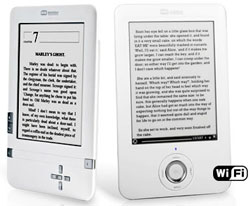 BeBook is a brand of ebook reader out of the Netherlands that isn't very well known in the United States. They sell rebranded versions of ereaders from China.
BeBook's latest ebook reader is the BeBook Club, a basic, low-cost device with a minimum of features. The BeBook Neo on the other hand is loaded with features.
It was announced this morning that both will be sold below retail prices from eBookMall for a limited time. The BeBook Neo sells for $229 and the BeBook Club is selling for $179. The Neo is $20 below regular price and the Club is actually $30 more than it is selling from the BeBook website—not exactly a good deal.
The BeBook Club has a 6-inch Vizplex screen, has 512MB of memory and an SD card slot for cards up to 16GB, a battery life of 12,000 page views, and supports Adobe DRM for EPUB and PDF ebooks.
The BeBook Neo also has a 6-inch Vizplex screen, 512MB of memory, an SD card slot, and support for Adobe DRM. Upgraded features include a Wacom touchscreen, built in WiFi, a web browser, and the ability to download ebooks directly to the device itself. Battery life for the Neo is 7,000 page turns. It has the same hardware as the Onyx Boox.
BeBook Neo Video Demo