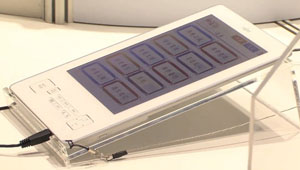 Fujitsu was the first company to build and sell an ereader with a color epaper display, called with the FLEPia. It was introduced back in 2007 and started selling in Japan in 2009.
Now Fujitsu has a new updated prototype of the FLEPia called the FLEPia Lite, which uses a cholesteric LCD display that Fujitsu Laboratories have been working on for the past ten years.
According to Fujitsu, cholesteric LCD displays only reflected certain wavelengths of light and have 32% reflectivity. They also claim that this technology is said to be the brightest type of display for color.
Like traditional monochrome epaper, this display technology only consumes energy when redrawing a page. No power is required when the image in on the screen. And since it uses ambient light to reflect the wavelengths of color, there isn't any back-light, so battery life is much longer than traditional LCD displays.
The FLEPia Lite has an 8-inch display with XGA resolution and a 7:1 contrast ratio, which is 3 times higher than the previous FLEPia model. The refresh rate has improved significantly too at .7 seconds, about 2 times faster.
Fujitsu is expected to start selling the new FLEPia Lite in Japan in 2011.
FLEPia Lite Demo
Via: Softpedia