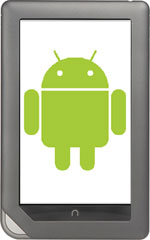 The Nook Color has been out for a couple of weeks now, plenty of time for hackers to root the device and find a way to install a number of 3rd-party Android apps.
To clarify, the new Barnes and Noble Nook Color runs on the Android operating system, but B&N elected to close the Nook Color off from installing applications developed for the Android platform. Instead, B&N will launch a truncated app store for the Nook Color with only apps they approve and take a revenue share from.
For those that don't want to wait for the Nook marketplace or don't want to be restricted to just B&N approved apps, you can root the Nook Color to turn it into a proper Android tablet and install all kinds of cool apps like Kindle, Angry Birds, Google Maps, Launcher Pro, and several others (check out the videos below).
The process of rooting the Nook Color is still in the more complicated phases; they'll find ways to make it easier for the non-technically inclined in due time. You can find the directions over at NookDevs. Make sure to read the directions completely before starting, especially the second page about NookColor USB ADB if you are using Windows. And be aware that rooting the Nook Color will likely void the warranty.
I couldn't get the process to work with my version of Windows (had trouble with the last step), but there are many that have. Here's a collection of videos I found on YouTube showing all kinds of cool apps on the Nook Color. It has a lot more potential as an Android tablet than I thought, especially considering the price and specs compared to similar devices.
Nook Color Running Android Apps