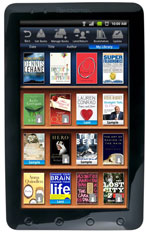 Pandigital has quietly released a new Pandigital Novel color multimedia ereader. This one has a larger 9-inch screen, whereas the other two color models have 7-inch screens.
The Pandigital Novel 9″ ereader has a lot of the same features and functions and the 7″ models, like the white model I reviewed earlier this year, just with a larger display and some added hardware buttons.
Like them it can play video, music, games, send and receive email, browse the web, and view photos and slideshows on the color touchscreen, among other things.
It ties in with Barnes and Noble for downloading ebooks and periodicals directly to the device via WiFi. It also supports Adobe EPUB and PDF ebooks purchased from other vendors, free ebooks borrowed from libraries, and can install other ebook reading apps thanks to the Android operating system (even the Kindle for Android app).
The screen technology is TFT LCD, and the pixel resolution is 800 x 480—pretty low for a 9-inch screen. Overall the device measures 9.5″ x 5.75″ x 0.5″ and weighs 20.5 ounces.
For memory it comes with 2GB internal and has a microSD card slot for cards up to 32GB. It looks like it comes with a 4GB microSD card too, at least the one listed on QVC does. It also sells from Bed Bath and Beyond. The price is at $199 on QVC, and the same at BBB after a $20 mail in rebate which appears to be valid until February 2nd, 2011.
The 9″ Pandigital Novel runs Android 2.0 and is open to installing 3rd party apps. For videos it can play MP4, for audio it supports MP3, AAC, and WAV. Here's the user guide for more details on specs and functions.
I've got one coming in next week so check back soon for a full hands-on review.