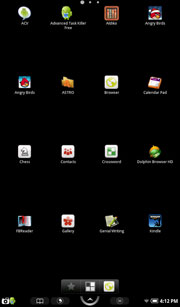 The big news story of the day is a rumor posted by SmartphoneMag about the Nook Color getting updated to Android 2.2 in January and that the update will include a Market app for downloading and installing apps.
Apparently the reporter for SmartphoneMag met with a representative from Barnes and Noble and was shown a Nook Color running the forthcoming update.
The article very clearly states the Market app wasn't on the device and that the B&N employee said the app may not have full access to the Android Market.
I point this detail out because of all the tech news sites reporting on this exact story with headlines like "Nook Color to get Android Market".
I just want to make it clear that this is not true. The Nook Color will never get full access to the official Android Market, and it's pretty discouraging to see these big tech sites who you'd think would know what they are talking about but can't figure out what's blatantly obvious even to a newcomer like me that was just introduced to Android last month with the PocketBook IQ.
The Nook Color can't have full access to the Android Market simply for the fact it doesn't have the required hardware to run a good percentage of apps, such as a camera, GPS, a microphone, etc. They can't sell apps for a device they're not compatible with; it would be a disaster.
That's why B&N will introduce an app store with only apps that are designed specifically for the Nook Color or apps that have been approved and optimized for the Nook Color so that consumers know what they are getting and know that it will work properly.
The big question is will B&N open the Nook Color up completely and allow users to install any 3rd party app? Even apps acquired from outside the Nook's app store? I say probably not, but you never know. B&N would sell a heck of a lot more units that way to people who have no interest in buying books but are looking for a low-cost Android tablet.
I was able to finally hack my Nook Color over the weekend (the screenshot for this post is proof :)) and can attest to the fact that it does make a pretty decent tablet, especially for the price when compared to other Android tablets currently on the market. It has some limitations, though, because there's no menu or back buttons. I can't get several of my apps to work properly because there's no way to open the menu; some apps are set up for this and add soft buttons on the bar at the bottom of the screen and others do not. Reasons like this are what will keep the Nook Color from having full Market access next month. But it does have a lot of potential.