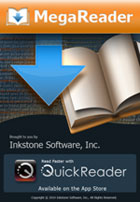 MegaReader is an ebook reading application for iPhone and iPad that just got updated to add some new features.
The most notable updates include adding iPad universal app support, multi-column support for Apple iPad, and integration with Instapaper 2.3.3, which allows you to read Instapaper articles in MegaReader.
Available for download via iTunes, MegaReader has in-app access to over 1.8 million free ebooks from places like Bean, Feedbooks, Project Gutenberg, Smashwords, and the Internet Archive.
Here's the key info from the press release:
MegaReader 2.0 supports native screen resolutions of the iPad, iPhone Retina display, and iPhone, making it virtually three apps in one. Text is always as sharp and clear as possible, in both portrait and landscape modes, because the app does not need to compromise quality to accommodate a non-native display resolution. MegaReader is highly customizable, allowing the reader to select from 31 fonts, over 100 font sizes, text justification, margin and line spacing, designer color schemes, and thousands of colors. The app comes with six built in catalogs offering access to over 1.8 million free public domain and modern indie eBooks. Users can also import their own DRM-free EPUB eBooks using the free Calibre eBook management software, and import text with copy and paste and Instapaper.

Feature Highlights:

Access millions of books from within the MegaReader app
Download, store, share, and enjoy millions of free books, anytime, anywhere
MegaReader is now iPad native – ultra-sharp and clear text display
Settings include: font, font size, space between lines, margin width, right justify, page and text colors, color schemes
Displays in both portrait and landscape modes
Configure multi-column display on iPad
Import articles, web pages, email and more with the MegaReader Pasteboards
MegaReader works with cataloging apps iBookshelf and MyLibrary
26 complete books included, such as Siddhartha, Pride and Prejudice, The Art of War, and The Curious Case of Benjamin Button

Adding to MegaReader's extensive customization, MegaReader 2.0 is the first iPad eBook reader that allows readers to configure the number of text columns. The user can choose from a standard 1-column book display, a 2-column magazine format, or a 3 or 4-column newspaper layout. This allows the reader to choose the layout that is most comfortable for them. It is also useful for people who wear bifocals or progressive glasses and have a limited field of vision, allowing them to read without moving their head from side-to-side when reading wide lines of text.
MegaReader Video Demo