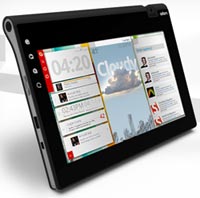 When Notion Ink decided to put their mysterious Adam tablet up for pre-order on December 9th, they had a lot of problems with their servers being overloaded and a lot of issues with their payment system that only accepted Visa and American Express cards and even caused some banks to suspect fraudulent activity.
A lot of people and news sites started reporting that the Notion Ink Adam was possibly a scam. There were no videos of the current device, no photos, nothing to confirm its actual existence.
Despite all this, Notion Ink sold out all their Pixel Qi pre-order models in less than a day and are now down to just the LCD models.
After the disastrous first day of pre-orders, the CEO of Notion Ink posted a follow up on the Notion Ink Blog explaining what had happened and also made a point of promising to post a video of the Adam in action on December 18th. That happens to be today . . . so here it is. The Notion Ink Adam in action.
After watching the video you can learn more about the Adam here. Oh, and I've got the 3G Pixel Qi model on order so check back in January for a hands-on review.
Notion Ink Adam Video Promo