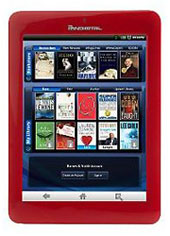 While doing some research for the 9″ Pandigital Novel review I'm working on, I came across a new version of the 7″ Pandigital Novel that's available exclusively from QVC until the end of January.
Until now, Pandigital has had two different 7-inch ereaders on the market, each with subtle differences. It looks like this new one is an updated version of the "black" Pandigital Novel.
The upgrades include a boost in memory up to 4GB, the addition of three color choices, red, blue, and black, and it comes with some additional accessories. Total accessories include a stylus, AC adapter, USB cable, cradle/stand, leatherette case, and ear buds.
Probably the biggest upgrade is the inclusion of 100 pre-loaded ebooks from the Barnes & Noble Classics Series. B&N's classics are well formatted and include footnotes and introductions. They typically cost $1.99 – $2.99 each, so that's a pretty good deal Pandigital managed to score.
I watched the video over at QVC briefly and the guy stated it has a new faster processor, but there aren't any detailed specs available anywhere to confirm that.
The biggest question is whether or not Pandigital updated the Android operating system with this new model. Pandigital makes a point of never mentioning the Android version so you have no idea what you are getting. The main problem with the black Pandigital Novel is that it uses an early version of Android whereas the white Pandigital Novel and new 9″ model both use Android 2.0.
If anyone gets their hands on one of these new models please let us know what version of Android it is running. You can check by going into settings, then scroll down and select "About Pandigital Novel" to see the Android version listed toward the bottom of the page.
If they updated the OS to Android 2.0 (Eclair) then it stands to be a much better deal than if it is running Android 1.6. It's harder to find apps compatible with anything below 2.0. Of course if your only interest is in using the pre-installed apps then the version of Android really doesn't make much difference.