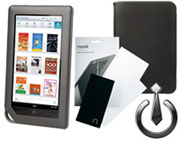 If you didn't receive that ereader you were hoping to get for Christmas, there are some post holiday ereader sales going on that you might find interesting.
For the most part there weren't any really outstanding deals for ereaders over the holiday season; most of the devices that were on sale can still be had for about the same price now.
Kindle
In case you were holding out for the Kindle to go on sale, that won't happen. Amazon never runs "sales" on the Kindle. Sometimes they lower the price permanently, but as it stands the Kindle 3 is $189 for the 3G model and $139 for the WiFi-only model. Both are probably the best overall value even though they aren't "on sale". The feature-lacking Kindle DX still remains over-priced at $379.
Sony Reader
The Sony PRS-350 seems to be on perma-sale at Amazon for about $150, while Sony and other sites are selling it for the regular $179. The 6″ PRS-650 is sold out online; you might get lucky to find one in a retail store, but it might be several weeks before stock is replenished. The PRS-950 is in stock, but isn't on sale and is currently $299. Best Buy still has the older PRS-300's for $99.
Barnes and Noble Nook
Best Buy is running a convoluted sale on the Nook Color this week to get $40 off when buying a Nook Color, case, screen protector kit, and 1 year Geek Squad ADH Protection.
The Original Nook remains at its regular price of $199 for the 3G model and $149 for the Wifi-only model. But you can get a manufacturer refurbished Nook 3G for $139 or a WiFi only version for $119 from B&N's eBay store and Buy.com.
Color eReaders On Sale