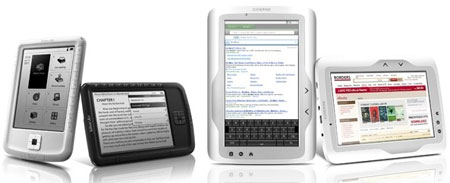 Today at CES Aluratek, makers of the popular grayscale LCD Aluratek Libre Pro, announced a new Libre Air ebook reader with WiFi and a 10″ Android tablet named Cinepad.
There's actually a third new device as well, the Libre Color. It was released just a few weeks ago and is selling for $199 from Aluratek's website. It has a color LCD screen as the name would imply and can play videos and display photos in addition to reading ebooks and playing music.
The Libre Air is an improved version of the original Libre, but with WiFi and a new curved design and button layout. It has a 5″ screen and supports PDF, TXT, FB2, EPUB, MOBI, PRC and RTF ebook formats. The Libre Air is expected to be released in February for the price of $129 and will tie in with the Borders ebook store for downloading ebooks.
The Cinepad runs Android, has a 10-inch capacitive touchscreen, micro SD card slot, g-sensor, WiFi, and Adobe Flash Lite, among other applications. According to reports, it runs Android 2.2, has a 1024 x 600 resolution screen, and 2600mAh battery for 5-10 hours of battery life. It is expected to be released in February for a MSRP of $299.
Here's the press release:
CES 2011: Aluratek Announces Libre Air eBook Reader with Wi-Fi and New Cinepad Android Tablet

Libre Air and Cinepad provide on-the-go solutions for books, photos, movies, music and more

LAS VEGAS – Upper South Hall, Booth #36831 — January 6th, 2011 — Aluratek, Inc. (www.aluratek.com), a leading creator of sophisticated yet user-friendly computer peripherals and consumer electronic devices, announces two new Wi-Fi devices at the 2011 Consumer Electronics Show – the Libre Air eBook reader and the Cinepad Android tablet. Both new products will be on display in the Upper South Hall, booth #36831.

For simple eBook downloading, the Libre Air adds wireless connectivity to the existing Libre eBook Reader Pro, available from Borders and offering over a million titles to chose from. Like its original counterpart, the Libre Air features an exclusive reflective light LCD screen technology. This technology offers faster page turns without the flashing and flickering that e-ink screens deliver.

With no backlight, reading on the Libre is like reading a book and the consumer will experience superior battery life from the built-in lithium-ion rechargeable battery. The design of the new Libre Air is more curved and features user-friendly buttons and controls for maximum convenience. It supports PDF, TXT, FB2, EPUB, MOBI, PRC and RTF electronic book formats.

"The e-book market continues to grow and we plan to grow along with it," said John Wolikow, VP Sales and Marketing for Aluratek. "Mobility is key and we're excited to offer a new Libre with Wi-Fi, as well as a new Wi-Fi tablet, to keep our momentum going."

Also announced is Cinepad, the new Android tablet with a capacitive 10.1-inch ultra crisp and responsive touch screen LCD. Web browsing on the Cinepad is provided with Adobe Flash Lite and instant messaging and email is also possible when connected via the built-in Wi-Fi.

Other features of the Cinepad include BMP, JPG, GIF picture format support, screen rotation, built-in MP3 player with background playback support, Micro SD card slot and an internal lithium-ion polymer battery with battery level indicator and low level warning.

Additional products showcased at the Aluratek CES booth include the "Bump" wireless speaker line and the Libre | Color. The Bump line includes a wireless speaker with USB transmitter that lets you play music from your PC or Mac in other rooms, as well as a digital MP3/FM Radio with wireless speaker and a portable MP3/FM radio boombox are also featured.

The Libre | Color features a full 7-inch color LCD display for an impressive e-reading experience especially for those that like to read at night as it is backlit and also offers digital movie, photo, and music support.

Expected availability for the Libre Air is February 2011 with an MSRP of $129. The Cinepad will also be available for purchase in February 2011 with an MSRP of $299. For more information on the Libre Air, the Cinepad or other Aluratek products, please visit www.Aluratek.com.