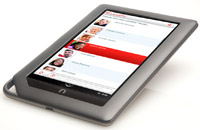 Yesterday the Nook Color managed to win the People's Choice Award at the Last Gadget Standing competition at the Consumer Electronics Show in Las Vegas.
It was up against some strong competition. The top ten finalists included a dual-screen laptop from Acer, a new chip from Intel, a video camera that shots 3D, the popular Nexus S Smartphone, a portable scanner, and some other cool gadgets.
With nearly 5000 votes cast by consumers and gadget connoisseurs online, the Nook Color received over 63 percent of the votes, winning the competition handily. The second place winner had just 15 percent of the votes.
The Barnes and Noble Nook Color has been a huge success since it was released back in mid-November. It is one of TIME Magazine's Top 10 Gadgets of 2010 and one of Huffington Post's Top 10 Gadgets of the Decade and is the Editor's Choice pick at several leading tech sites.
One of the things helping the Nook achieve success is the fact that its Android operating system can be hacked to effectively turn the Nook into an Android tablet. Which makes you wonder. Would the Nook Color have been this successful if not for the hacking community? What if B&N had somehow made it impossible to hack. Would it still have been able to win the People's Choice Award?