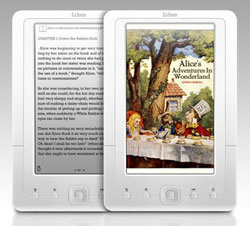 At CES 2011, Aluratek unveiled a new ebook reader called the Libre Air and an Android tablet called Cinepad, both due to arrive in February.
There's a third new device from Aluratek too, one that's already on the market. It's called the Libre Color. It has a color screen, as the name would lead you to believe, that measures 7-inches diagonally. The display technology is TFT-LCD and the pixel resolution is 800 x 480.
Like other color ereaders, the Libre Color can play videos, music, and display photos in addition to reading ebooks. It does not have any Wi-Fi or wireless to download ebooks and browse the web, however; ebooks have to be loaded onto the device or memory card with a computer.
For tech specs, the Libre Color comes with 2GB of internal memory and has an SD card slot for cards up to 16GB. It has a built in speaker, 3.5mm headphone jack, and a rechargeable battery that lasts approximately 6 hours per charge.
For ebooks the Libre Color supports Adobe DRM for EPUB and PDF, as well as DRM free EPUB, PDF, TXT, and FB2 formats. For audio it supports MP3, AAC, WMA, OGG, and WAV. It can display JPG, BMP, GIF, and PNG images. And can play these video formats up to HD 1080p resolution: wmv, flv, rm/rmvb, mov, avi, mpeg 1, mpeg 2, mpeg 4, xvid, divx, h.263, h.264.
For features, there are 5 different font sizes, image zoom, bookmarks, go to page, auto page turning, auto screen rotation, 2 page landscape mode, and the font color, background color, and brightness can be adjusted.
What's odd about the Libre Color is that Aluratek doesn't appear to be putting much effort into marketing it. The Libre Pro sells from a large number of retailers online and in stores, but the Libre Color is only selling from a couple of websites.
It sells from Aluratek's website for way too much for its capabilities ($199). Currently it is $129 at Buy.com (they mistakenly have it listed as 5″) and $140 at Amazon, but neither have any reviews yet. What about you? Have you had your hands on one of these yet? If so, let us know how well it works, and if you thinks it's worth buying.
Source: Aluratek