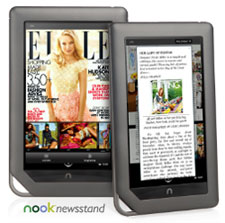 Barnes and Noble issued a press release today with some surprising statistics about their NOOKnewsstand, B&N's online store for digital newspaper and magazine subscriptions.
According to the press release, digital periodical sales have exceeded expectations with more than 650,000 total subscriptions and single copy sales driven by Nook Color customers. Another interesting stat, since Christmas Day, customers have ordered 150% more subscriptions than the total number sold over the entire previous 12 months.
Given the fact the Nook Color has only been on the market for 2 months, that's pretty surprising, especially with reports that subscriptions on the iPad aren't doing so well.
It helps that Barnes and Noble is finally starting to offer a lot more subscriptions. It wasn't very long ago that they had just 20 or so available. Now there's nearly 100 electronic newspaper and magazines in the NOOKnewsstand.
Some of the best-selling magazines include: Us Weekly, Cosmopolitan, National Geographic, Reader's Digest, Maxim, Star, O, the Oprah Magazine, Food Network Magazine, Women's Health, and Shape.
The top newspapers are USA TODAY, The New York Times, and The Wall Street Journal.
The Nook Color, of course, has some unique features for reading magazines. You can zoom in and out, there's a thumbnail preview slider to navigate through pages, and with Article View a window pops open with the text of the article formatted for easy reading. Here's B&N's video.
NOOKnewsstand Video Demo