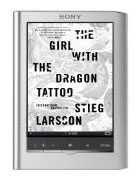 The 5″ Sony PRS-350 is on sale at Sony Style, Amazon, and other Sony retailers for $129, and is even down to $119 at Buy.com. If you have a trade-in voucher now would be a good time to use it.
Normally it's a hard decision between the PRS-350 and the larger memory card-equipped PRS-650, but at $100 cheaper than the 650 the choice becomes a lot less difficult.
The Sony Pocket is a good choice for a reading-focused ereader. I hadn't used mine for a couple of months since I've been reviewing so many Android ereaders lately with color LCD screens. I decided the Sony Pocket needed some use and have been reading on it for the past week. Right now I'm reading Full Dark No Stars.
It still amazes me how incredibly small and light the PRS-350 is. And something about the Pearl screen—I can't explain it—is more pleasant to read on than LCD in my opinion.
On the negative side, it still annoys me how there isn't another font size between small and medium. I could change that by stripping the DRM and then modifying the font for the ebook with Calibre, but that's too much work. Regardless of my pet peeve, it's still a really good ebook reader for $129 and is worth considering. Here's my review from back in September for more details.